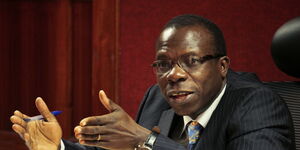 Award winning Justice George Vincent Odunga is currently the presiding judge at the High Court in Machakos. 
The judge has been in the spotlight for his radical rulings that have reversed Executive decisions in the past.
On September 20, 2021, he issued an order restraining the Kenya Revenue Authority (KRA) from enforcing the provisions of minimum tax that came into effect in January 2021. 
Other radical rulings involve nullifying the decision of the Independent and Electoral and Boundaries Commission (IEBC) to award the tender for the printing of election materials to Al Ghurair Printing and Publishing Limited. 
He also nullified sections of the controversial security laws, including powers for the spy agency to carry out special operations to avert terror attacks. 
In 2018, he was awarded the Jurist of the year award for heading the most efficient court station by delivering over 500 cases within 60 days after final submissions.