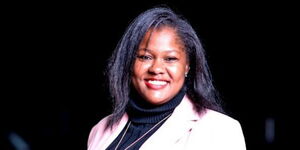 Keylie Muthoni Ogola is the Chief Operating Officer and Co-founder of a startup called Eco Bana.
At Eco Bana, Muthoni and her staff seek to stop menstruation period poverty through the provision of quality, comfortable and affordable biodegradable sanitary pads that are manufactured using banana fibers.
In September this year, her company won Ksh 120 million at the 2022 Hult Prize finals.
Speaking during the award ceremony which was staged in New York City, United States, former US President Bill Clinton congratulated Muthoni and her colleagues for coming up with an innovative and sustainable company.
The fifth President of the Republic of Kenya, William Samoei Ruto, also congratulated them for the incredible feat. 
Eco Bana intends to manufacture and sell over 3,000,000 sanitary pads and create more than 2,000 job opportunities by 2024. 
Besides her life changing initiative, Ogola is also a commercial model, voice-over artist, content creator and an experienced actress, who has featured in numerous television shows.