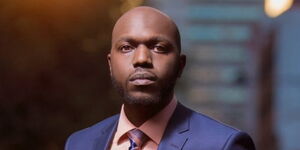 Larry Madowo is among Kenya's most celebrated journalists. His journey from a humble background in Siaya county to working for global news giant, CNN, lives as an inspiration to many Kenyans.
Madowo has had a career coveted by many journalists, working for top media houses locally, and internationally. This includes KTN, NTV, CNBC, the BBC and CNN.
He has also helped propel fellow journalists' careers when he recruited a number to BBC after he was asked to constitute a team to work with him when he was serving as a Nairobi correspondent. These include Makena Njeri and George Ndirangu.
Larry was poached by CNN from BBC in May 2021, becoming among the few journalists who have worked for the media giant.
In 2020, Madowo was feted for his Masters thesis, where he was named the winner of the 2020 Philip Greer Award. His Financial Writing at the Columbia University school of journalism only confirms his intellectual abilities.
Further, he is the first person of color to deliver the Peter Stursberg Foreign Correspondents Lecture at Canada's Carleton University.
Larry has also been nominated as a One Young World Journalist of the Year and has twice been named among the 100 Most Influential Africans by New African Magazine.