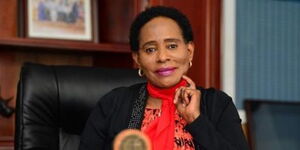 Lizzie has made a name for herself, especially in the education sector, and is one of the few women who have built a multibillion empire stretching to real estate and hospitality.
With a Ksh10 million capital investment, Lizzie began the Nairobi Institute of Business Studies (NIBS) with only 25 students and two teachers. The business struggled for eight months but slowly began to pick up.
By 2018, NIBS had a student population of 6000 and staff of over 250.
In addition to NIBS, Lizzie has a four-star hotel in Kileleshwa for business and hospitality training.
Her newest addition is Lizzie Wanyoike Preparatory School that boasts a warm learning environment and dedicated teachers providing an exciting, ever-evolving curriculum that meets each child's individual needs and interests.
Further, she is the founder of Lizzie Wanyoike Foundation,which has sponsored over 20 disadvantaged students in NIBS and more students in Kenyan high schools.