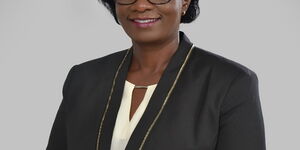 Lyn Mengich is the chairperson of the Salaries and Remuneration Commission (SRC). She is a leader and HR professional with over 25 years of cross-industry experience holding top-level positions in a wide range of publicly traded and private organisations.
She has a wealth of experience in leadership and Human Resource Management having worked in senior HR roles as CEO and consultant for Nuevo consulting.
Mengich who assumed office in September 2018, taking over from Sarah Serem, has put up a fierce fight against seemingly insatiable MPs who sought to arbitrarily increase their salaries.
She took it a notch higher in May 2019 and sued the MPs for adding house and night allowances to their benefits, in a bid to save poor taxpayers from the claws of their own legislators. She argued that the allowances were a duplication of benefits already included in their gross pay as evidenced under the Gazette Notice No. 6517 of 2017.
On November 28, Cherop presented to President Uhuru Kenyatta a raft of proposals to cut the wage bill, key among them an intention to slash allowances for civil servants.
"Effort by the government is required to achieve a public sector wage bill of not more than 35% of revenue as per the Public Finance Management Regulations," she stated.