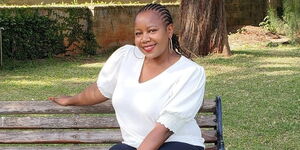 Lynn Ngugi is a renowned YouTuber who shares the unheard stories of Kenyans in the country and abroad. She is the founder of Lynn Network and host of The Lynn Ngugi Show.
Through the platform, Ngugi hopes to bring stories that have the ability to impact the communities in the area.
She also hopes to inspire and challenge her viewers to make the world a better place.
In 2020, the YouTuber was named the Cafe Ngoma (CN) Humanitarian of the Year. In the same year, Lynn was named among BBC's Top 100 influential women.
Additionally in the same year, she won the I Change Nations Community Ambassador Award (ICNA).
She won the Women in Film Awards (WIFA) content creator of the year in 2022.
The content creator holds an Associate's Degree focused on Mass Communication/Broadcast Journalism from the East Africa School of Media Studies.