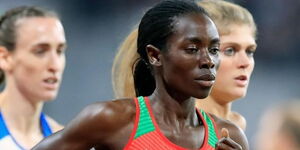 Margaret Chelimo born February 9, 1993,  is a Kenyan long-distance runner who took part in the 2019 World Championships in the 5km race and managed to bag a silver medal after Hellen Obiri in Doha, Qatar.
After missing a chance to represent the country in the 2020 Tokyo Olympics, her chance at redemption came at the Ibercaja Road Race in Valencia. where she smashed the 10,000 m world record clocking in at 29 minutes and 50 seconds.
Chelimo broke the existing record of 30 minutes and 01 second that had been set in September by Agnes Tirop at Roads to Records in Germany.
Chelimo won the 10km Boclassic race in Italy by a second, clocking a time of 30.43 minutes in December 2020.
She competes in the 10,000m, 1,500m, 3,000m, 5,000m and 800m cross team events.