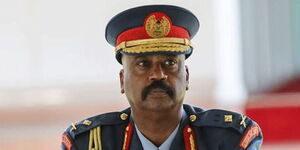 Mohammed Badi is the former Director General of the Nairobi Metropolitan Services (NMS). 
The General was tasked with the responsibility of transforming Nairobi city by former president Uhuru Kenyatta. The Retired Army man has a Master's Degree of Science in Strategic Studies and has worked for over thirty years as Government Certification Officer.
Prior to his appointment at NMS, Badi was a senior air director at the National Defence College where he was in charge of Kenya Air Force staff training.
He had also served as a Base Commander in charge of Moi Air Base in Eastleigh, Nairobi. He was promoted to the rank of Major-General in a major shakeup within the military ranks in May 2019.
The retired Major General served as a United Nations staffer during the 1999 Sierra Leone Peacekeeping mission.
As NMS boss, Badi took up four key functions of Nairobi county, including planning, and transport, to the national government.
During his tenure, he oversaw the construction of an asphalt plant along Kangundo which provided material for upgrading and re-carpeting of city roads.
He also inspected garbage collection exercises in various parts of the city including Muthurwa Market and other areas. Through the entity, several youths were employed to help clean the city and unclog blocked drainage system.
Under his watch, major walkways in the city including Kenyatta Avenue, Koinange Streets received a facelift - which has made walking in the city much safer and easier.