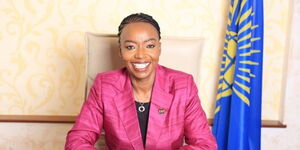 Juma is a Diplomat who is currently the Energy and Petroleum Cabinet secretary.
Previously, she has served as cabinet secretary for Defense, Foreign Affairs, and the Principal Secretary for Foreign Affairs. 
During her vast work experience, she has served as the Principal Secretary in the Department of Interior, Ministry of Interior and Coordination of National Government where she led reforms in the national security policy, architecture, and operations within the National Administration, the immigration and Registration of Person departments and the National Police Service.
Her work has led to the development of Kenya's approach on Counter-Terrorism and Violent Extremism together with the establishment of multi-agencies approach in handling security challenges.
Juma schooled at the University of Nairobi pursuing her Bachelor's Degree and Masters.  Later, she pursued her certificate in Refugee Studies at the University of Oxford where she also obtained her PhD in Philosophy.
She has served as Kenya's concurrent ambassador to Ethiopia, Djibouti, the African Union, the Intergovernmental Authority on Development, and the United Nations Economic Commission for Africa (UNECA).
Further, she has been endorsed as the commonwealth secretary by President Uhuru Kenyatta.
Juma is the recipient of the Kenyan Gender Equality Award.