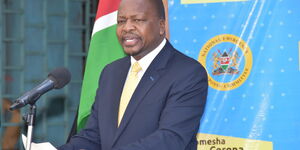 Mutahi Kagwe is the current Cabinet Secretary for Health.
He holds a Bachelor of Commerce (Insurance) degree from the University of Nairobi and an MBA from the United States International University.
The tenured Kenyan politician served as the fifth Member of Parliament for Mukurweini Constituency and was the first Senator of Nyeri County. 
As Senator, his credits include the championing of "The Best Classroom," an Early Childhood Education program that aspires to promote the quality provision of ECDE nationwide. 
He is also credited with having sponsored the Cyber Security and Protection Bill in the Senate of Kenya. 
As a Member of Parliament, he was the Chair of the Parliamentary Committee on Finance, Trade, Tourism, and Planning, before his appointment as a Cabinet Minister for Information and Communications.
 He spearheaded the construction of the transformational East African Marine System (T.E.A.M.S) – The first Fibre Optic Project for Eastern Africa. 
It was during his term as Cabinet Minister that Kenya launched 'M-pesa,' the world's first-ever mobile money transfer system.
He is a professional member of the Marketing Society of Kenya, the Kenya Institute of Management among others. 
In 2020, he led Kenya's National Emergency Response Committee in its fight against the coronavirus pandemic since March. His efforts, amid countless domestic and local challenges, earned him international recognition in the Wall Street Journal. 
Mutahi Kagwe's net worth stands at roughly Ksh667.8 million, according to the documents tabled in Parliament during his vetting session.