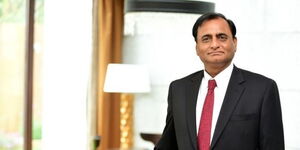 Narendra Raval, is a Kenyan industrialist, entrepreneur and philanthropist.
He is the Executive Chairman of the Devki Group of Companies, a conglomerate in East Africa that manufactures steel, aluminium and cement. 
Raval is among a few Kenyans who have been featured on the Forbes list. The 58-year-old has an estimated net worth of about Ksh50 billion, according to Forbes 2015 list of Africa's 50 richest people. 
Devki Group has become East Africa's largest construction material company. The company is now depended upon by several East African companies. Companies under Devki Group of companies include; Devki Steel Mills Limited, Maisha Mabati Mills Limited, National Cement Companies Limited and Northwood Agencies Limited, which offers helicopter services.
Devki Group of companies has employed over 4000 employees and has an annual revenue of Ksh65 Billion. 
Raval is devoted to his philanthropy work and he funds several children homes in the country. 
During the Covid-19 pandemic, he donated Ksh 100 million (USD 1 million) worth of oxygen to all government hospitals in the country.