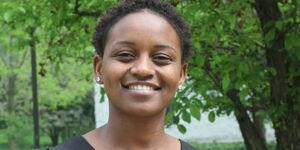 Nelly Cheboi is a community worker and a social entrepreneur, who has changed the lives of thousands of Kenyans.
Cheboi, who hails from a little village in Baringo County, is the Chief Executive Officer (CEO) of Technologically Literate (TechLit) Africa - her own firm.
Her company recycles technological products from the United States and uses them to construct computer laboratories in rural Kenya. 
Through her initiative, Cheboi has been able to promote the use of technology in schools across Kenya.
The 29-year-old, who hires teachers and trains them to run these computer laboratories, has benefited more than 4000 students in different regions of the country through her initiative. 
Through persistence, hard work and commitment, Nelly managed to attain monumental success and get her family out of poverty.
Her goal is to enable disadvantaged Africans to master technical skills that can help them make money online and transform their lives.
In 2021, Cheboi was among the persons named in the Forbes 30 under 30 list and this year. 
She has been nominated for the 2022 CNN heroes award.