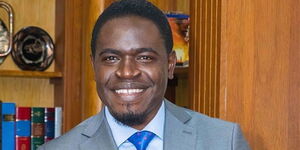 Nelson Havi is the current President of the Law Society of Kenya (LSK). He studied law at the University of Nairobi and is an advocate and the Senior founding partner of Havi & Company Advocates.  
Born in December 1977 in Mwihila, Kakamega, Havi is known for his love for satirical poetry, and will not hesitate to express this in most of his speech and even writings. As the LSK President, he has been championing for change - and while at it has put the government on its toes.
In 2020, he called for the dissolution of Parliament due to its failure to meet gender parity. He also took issue with the Legislature for failing to check on the Executive so that they do not continue burdening Kenyans with loans.
The vibrant lawyer has put the MPs on their toes, claiming that they have failed to check on state agencies to help in the fight against corruption and in ensuring nominated state officers meet professional and integrity qualifications. One outstanding moment was when he led a group of lawyers to Parliament to push for its dissolution following Chief Justice David Maraga's advisory for failing to implement the two-thirds gender rule.