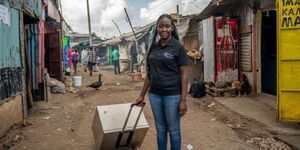 Magero is a renewable energy consultant and a mechanical engineer with over four years experience in the management and design of off-grid energy utilities. 
The former student of Lugulu Girls High School co-founded both Cool Green Campaign and Drop Access.
Drop Access, is a non-profit company that redefined energy access in rural parts of Kenya by advocating for productive use through financing and innovation.
Magero, who holds a bachelor's degree in Mechanical Engineering from the University of Nairobi and a Diploma in Information Technology from JKUAT, has worked for a number of organizations in Kenya including the Mulatya Memorial Hospital, Davis and Shirtliff as well as the Energy Regulatory Commission.
She also oversaw the design and installation of a solar heating system at the Starehe Girls High School.
In June this year, Magero became the first Kenyan to scoop the coveted Africa Prize for Engineering Innovation Award for developing VacciBox.
VacciBox is a solar-powered, mobile fridge that safely transports and stores medicines such as vaccines for use in remote clinics and field vaccinations.
Some of the other notable awards that Magero has won include the Philanthropy Award (2017) Africa Queen of energy (2021), Energy Social Impact Award (2020) and the 2020 Energy Champion of the year award.