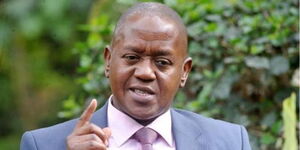 Phineas Kimathi is a renowned safari rally driver and the current Chief Executive  Officer (CEO) of the World Rally Championship.
He was at the helm of WRC when the safari rally championship returned to Kenya In June 2021 after a 19-year spell.
The WRC event injected an estimated Ksh6 billion into the economy, creating employment for thousands and improving the economy of not only Nakuru County but also Kenya at large. His  tenure saw Kenya pen a deal to host the WRC for the next  five years.
In his hey-days, Kimathi was among the best Kenyan rally drivers, completing three rallies. He finished in position 13 in 1994 , 18th in 1999 and 14th in 2000.
Phineas gave Hyundai their first national motor sport title worldwide in the KNRC F2 in 1997.He was also the first person to win the F2 title in a WRC event for Hyundai McRae.