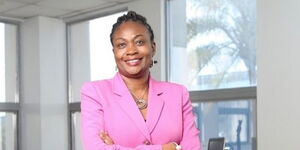 Rita Kavashe is the Managing Director, Isuzu East Africa.
She has a Bachelor's degree in Education from Moi University and a Master's degree in Business Administration from the University of Nairobi. Kavashe is also an alumnus of the Harvard Business School. 
She previously held various roles including Domestic Sales and Distribution Manager, Sales and Marketing Director, Commercial Director and GM Sub-Saharan Africa Export Manager.
Kavashe also serves on a number of government committees and has played a leading role in the development of social investment activities in East Africa, both at a corporate and personal level.
She is currently a Board member of the Vision 2030 Board, the Kenya Association of Manufacturers, Kenya Roads Board, Kenya Private Sector Alliance, Automobile Association of Kenya and the National Transport & Safety Authority.
In July 2020, Kaveshe joined the board of British American Tobacco (BAT) as a non-executive director.
Kavashe is also an Executive Coach certified by the Academy of Executive Coaches (AOEC), UK.