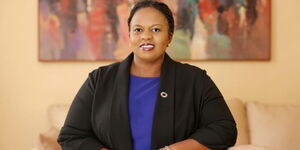 Ojiambo is the CEO and Executive Director of the United Nations Global Compact, a position she was appointed to on June 17, 2020, by the United Nations Secretary-General António Guterres.
As the CEO of UN Global Compact, Ojiambo leads the US-headquartered organization that guides and supports the global business community in advancing UN goals and values through responsible corporate practices. 
She graduated with a Master's degree in Public Policy and Development Economics from McGill University. Ojiambo also studied various management courses at Strathmore Business School and the Harvard Business School. 
Ojiambo also spent over a decade working in the NGO sector and the United Nations, starting at CARE International in Somalia and moving to UNDP Somalia, leading programmes in diverse areas such as Education, Safe Motherhood, Environmental Conservation, Governance and Landmines Demining.
Before her appointment to the UN Global Compact, she worked at Safaricom for 11 years as the Head of Sustainable Business and Social Impact. 
She provided technical guidance and leadership to teams that pioneered the integration of the Sustainable Development Goals into Safaricom's business strategy and the delivery of the first-ever True Value reports for an African corporate.