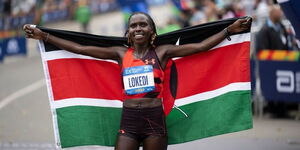 Sharon Lokedi is a Kenyan long-distance runner who takes part in road races.
Lokedi is the 2022 winner of the TSC New York Marathon Race where she finished with a time of 2:23:23.
Prior to the race, the Kenyan athlete did not have any sponsors however, famous sportswear brand Under Armor came to her aid.
According to her coach Stephen Haas, the shoe brand came through for the athlete at a time when she needed competitive footwear for major marathons and races.
Lokedi won the New York Marathon wearing the yet-released 324 Under Armour Velociti Elite shoes.
The shoe was only approved by World Athletics in October 2022 with the race happening the next month.
Its Manufacturer's Suggested Retail Price (MSRP) is Ksh30,425 ($250) and is expected to be released in early 2023.
Lokedi also made history at the New York Marathon becoming the first Under Armour athlete to win a World Marathon Major.