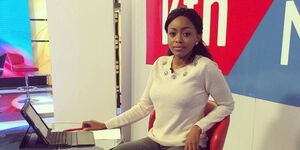 Sophia Wanuna is a journalist and news anchor at KTN News TV.  Wanuna is also Deputy Broadcast Editor at the Standard Media Group.
Wanuna started her journalism career at K24 in  2010. She rose to become a prime time news anchor before leaving the Kijabe street located Media house in 2011. 
After that, she joined Standard Media Group. As a reporter for KTN News, Wanuna covered the Westgate terror attack, lawyer Miguna Miguna's deportation saga in 2017 and even the Suguta Valley banditry attack, among other stories.
In 2022, she hit some milestones in her career. Wanuna was picked to moderate the Deputy Presidential Debate between Kwenza Kwanza candidate Rigathi Gachagua and his Azimio counterpart, Martha Karua.
She moderated the debate alongside NTV's James Smart.
Besides moderating the debate before the August 9 General Election, Wanuna also held an exclusive interview with Uganda's President Yoweri Kaguta Museveni.
The interview came months after Museveni lauded KTN News for their election coverage and analysis during President William Ruto's Swearing-in on September 13.