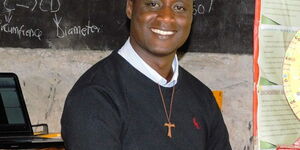 Peter Mokaya Tabichi is a Kenyan science teacher at the Keriko Mixed Day Secondary School in Pwani Village situated in a remote, semi-arid part of Kenya's Rift Valley.
He is the winner of the 2019 Global Teacher Prize becoming the first teacher from Africa to win the Ksh100 million World Teacher of the Year award during its fifth anniversary.
Tabichi gives away 80% of his monthly income to help the poor. His dedication, hard work and passionate belief in his student's talent has led his poorly-resourced school in remote rural Kenya to emerge victorious after taking on the country's best schools in national science competitions.
He was recognised as the United Nations (UN) in Kenya Person of the Year for 2019.
Tabichi was appointed as the Dettol Soaperhero Brand Ambassador for 2020.
His students have also won an award from The Royal Society of Chemistry after harnessing local plant life to generate electricity.