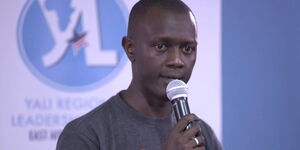 Tonee Ndung'u is a technological architect behind the revolutionary company, Kytabu, that provides digital textbooks and educational resources for students in Kenya.
Kytabu is a textbook subscription application for android tablets reducing the cost of a book by more than 40 per cent increasing widespread access to information.
Valued at Ksh560 million, Ndungu was inspired to start the company after struggling to access an education. He battled through the Kenyan education system with dyslexia, relying on audio books or simply falling behind.
The company partnered with Safaricom and Microsoft in a project aimed at rolling out laptops.
In 2015, he won the  African Entrepreneurship Award's Education category to scale Kytabu and increase its impact across the country.