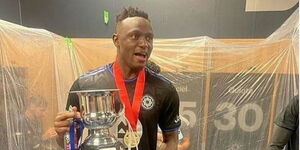 Wanyama is a professional footballer who captained the Kenyan National Team, Harambee stars in 2013.
He became the first Kenyan to score in the UEFA Champions League.
Wanyama has played in all six of Kenya's 2010 FIFA World Cup qualifiers.
He has represented the national team at the 2019 Africa Cup of Nations.
Wanyama announced his retirement from international football in September 2021, marking the end of 14 years of international duty.
In the past year, Wanyama has been integral for his current team Montreal Impact FC, captaining them to win the Voyageurs Title, his first-ever title with the club.
His efforts have not gone unnoticed as he has been nominated for the 2021 Most Valuable Player Award, after making a total of 27 appearances for the club.
He has been a pioneer in many aspects of his career, and an inspiration to those that came after.
Earlier in his career, his move to Southampton made him the first Kenyan football player to play in the Premier League, the most-watched football league in the world.
His earlier move to Celtic FC also saw him seal the same as the first Kenyan player in the Scottish Premier League.