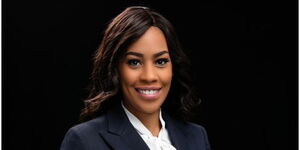 Victoria Rubadiri is Citizen TV News Anchor whose career in media started in the US working as an intern for an international TV station. 
Upon moving back to Kenya, she joined Capital FM where she doubled up as a business journalist and a news anchor in 2012. Later on, she joined Nation Media Group (NMG) and then switched to Royal Media Service (RMS) in 2018. 
Rubadiri scooped the 2020 BBC World News Komla Dumor Award which she noted was the highlight of her career. She believes that her passion for telling African stories will be elevated to an international platform where she seeks to delve deep into stories that resonate with a global audience.
Despite amassing over a decade of experience in the industry, the news presenter has always considered herself more of a student than a role model. 
A champion for women's rights, the news presenter advocates for equality in the media industry as well as changing the narrative to shift focus towards human interest pieces.  
One of her most notable features was highlighting the experiences of women who had cervical cancer. This was featured in the segment dubbed 'Wombs of Sorrow' during the prime time news bulletin.