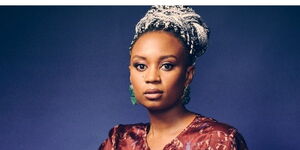 Wanuri Kahiu is a Kenyan film director, producer, and author.
Her passion for film started at the early age of 16. After completing her bachelor's degree in Management Science from the University of Warwick, she went on to pursue a Masters in Fine Arts in production/directing at the University of California, Los Angeles School of Theatre, Film and Television.
The first film she featured in, From a Whisper, received 12 nominations and earned five awards at the 5th Africa Movie Academy Awards in 2009. 
Kahiu produced a documentary, For Our Land that documents Nobel Peace Prize Laureate Professor Wangari Maathai's story.
In 2018, her film, Rafiki, was selected to premier at the 2018 Cannes Film Festival and was the first Kenyan film to screen at the festival where it received a standing ovation. In addition, it was shown at the London Film Festival. 
 In 2019, Queerty named her one of the Pride50 "trailblazing individuals who actively ensure society remains moving towards equality, acceptance and dignity or all queer people."
In the same year, Kahiu and Stranger Things Milly Bobby Brown, teamed up for a film adaptation of the YA novel, The thing About Jellyfish for Universal Studios. 
She will work alongside Oscar winner, Viola Davis, in the Wild Seed series.
In 2021, she announced a feature film, Plus/Minus, a project with Netflix alongside Hollywood actress Lili Reinhart, and Nia Long.