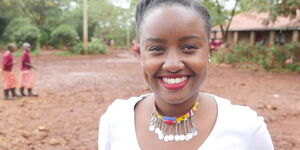 Wawira Njiru is a Kenyan businesswoman, entrepreneur, human nutritionist, and philanthropist, who serves as the executive director of Food 4 Education, an organization that cooks, prepares and distributes nutritious meals, at subsidized prices to over 2,000 poor school children in Ruiru, a suburb of Nairobi, the capital city of Kenya.
At the inception of Food 4 Education in 2011, the initiative provided subsidised lunch to 25 children from underprivileged backgrounds in Ruiru. Through online campaigns to raise money to fund her project, Wawira was able to stay the course.
Fast forward to 2019 and the initiative now feeds more than 3,000 schoolchildren every day and employs 30 people including cooks and drivers. This is also Wawira's fulltime job. She serves as the executive director.
"Yesterday was so surreal. I got to share receiving an award at the Global Citizen Mandela 100 stage with the PM of Norway Erna Solberg who received the Global Citizen World Leader Prize. So inspired by the work she is doing towards the achievement of SDGs and her encouragement with Food for Education and our commitment to," - Wawira Njiru in 2018