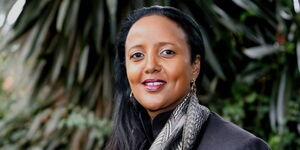 Amina Mohamed is the Cabinet Secretary for Sports, Culture and Heritage, a position she has held since March 2019. Amina, 59, has had an illustrious career in both the diplomatic and public service spanning three decades.
After her Masters in Law degree in Ukraine, Amina returned to Kenya in 1985 and worked for the Ministry of Local Government as a legal officer before moving to the Ministry of Foreign Affairs in 1986.  
It is at the Foreign Affairs Ministry that Amina's career blossomed. She represented Kenya at the UN office in Geneva, Switzerland as a legal advisor and the UN Security Council in New York.
Mohamed rose through the diplomatic ranks to the highest level of Ambassador and Permanent Representative Kenya Mission to the UN at Geneva, a position she held from 2000 to 2006.
In 2008, Mohamed was appointed Permanent Secretary, Ministry of Justice, National Cohesion and Constitutional for three years before joining the UN where she served as the United Nations Assistant Secretary-General and Deputy Executive Director of the United Nations Environment Programme (UNEP) in Nairobi.
The multilingual career diplomat was first appointed to the Cabinet as CS for Foreign Affairs during President Uhuru's first term, becoming the first woman to head the Ministry of Foreign Affairs and International Trade. She was credited for boosting Kenya's regional and international image and fronted Kenya as a host nation for major global events such as UNCTAD 14, TICAD Summit and WTO 10th Ministerial Conference.
It was while she was Cabinet Secretary for Foreign Affairs between 2013 and 2018 that Kenya nominated Ambassador Mohamed to take over the chair of the Africa Union Commission losing, however, to Chad's Moussa Faki.
Ambassador Mohamed was in early 2018 appointed as Cabinet Secretary for Education, where she served for one year before leaving to head the Sports, Culture and Heritage docket after a cabinet reshuffle.
In 2020, Ambassador Mohamed was one of the three front runners shortlisted to take over the leadership of the crucial World Trade Organization as Director-General, further raising her profile as an international diplomat and negotiator.
In October 2020, she was elected a member of the World Motor Sport Council coming months after she successfully campaigned for Kenya to host one of the legs of the World Rally Championship, the Safari Rally.
Ambassador Mohamed is the recipient of several awards and honors including Elder of the Order of the Golden Heart of Kenya, Chief of the Order of the Burning Spear, Grand Cordon of the Rising Sun, Honorary Doctorate from KCA University and Life Member of the Red Cross Society.