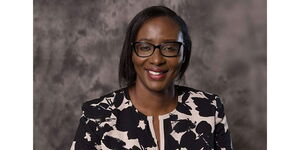 Beatrice Kedeveresia Elachi is a Kenyan politician who served as the Speaker of the Nairobi County Assembly between September 2017 and August 2020. Elachi was born in 1973 in Kakamega County. 
She attended local schools before moving to Nairobi for higher education at the African Nazarene University. After graduation, she worked briefly in the private sector before venturing into NGO consultancy on gender and security matters. 
Her work introduced her to sources in government and ultimately saw her active involvement in the 2005 Referendum as an official in the Yes Campaign team that was headed by President Mwai Kibaki. 
Her work saw her serve in President Kibaki's re-election team - Kibaki Tena, as an outreach manager. After the violence-laden 2007 campaign, then-Interior Minister John Michuki picked Elachi as a coordinator on resettlement of Internally Displaced Persons (IDPs). 
Her mobilisation skills got the eye of Michuki's colleague in Cabinet, Kiraitu Murungi, who was in the process of making his own party towards the 2013 general election. Kiraitu picked Elachi as Secretary-General of his party - Alliance Party of Kenya - then popularly known as the "mbuss".  
She was subsequently nominated to the Senate by APK and was sworn in after the 2013 general election.
APK's cooperation with TNA and URP under the Jubilee coalition saw Elachi picked for the position of Senate Majority Whip - one of the most powerful positions in the Senate.
She was also instrumental in the merger of the Jubilee coalition parties which led to the formation of the Jubilee Party in 2016. 
In 2017, Elachi unsuccessfully vied for the Dagoretti North parliamentary seat but lost to the current MP - Simba Arati. The mother of nine was voted as Nairobi County Speaker in 2017. 
She had a tumultuous term that saw multiple attempts by Nairobi MCAs to impeach her and ultimately led to her resignation in August 2020. 
President Uhuru Kenyatta has since appointed her as Chief Administrative Secretary (CAS) in the Ministry of Gender and Public Service.