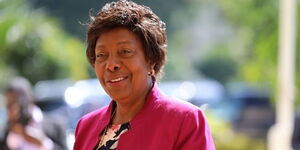 Charity Kaluki Ngilu is a politician and the current Kitui County Governor, one of the three women governors that were elected as governors in the 2017 General Election.
Ngilu's political career spans three decades having first vied and won the Kitui central parliamentary seat in 1992.
In 1997, Ngilu and the late Prof. Wangari Maathai became the first women to vie in the presidential election losing to former President Daniel Arap Moi. She however retained her parliamentary seat.
Ngilu was part of the coalition that swept into power in the 2002 general election that propelled Mwai Kibaki to the presidency. She became the National Rainbow Coalition (NARC) chairperson and President Kibaki appointed her as Minister of Health in January 2003.
A fall out in the coalition saw Ngilu align herself with Raila Odinga's Orange Democratic Movement against Kibaki's Party of National Unity, with the 2007 contentious general elections resulting in a government of national unity.
Ngilu joined the cabinet for the second time as Minister of Water and Irrigation. In 2013, she lost the Kitui County Senator race to David Musila but was appointed as Cabinet Secretary for Lands, Housing and Urban Development by President Uhuru Kenyatta.
As the Kitui County Governor, Ngilu has pushed through reforms to protect the environment including banning sand harvesting and charcoal transportation.
Ngilu launched the Kitui County Textile Centre (Kicotec), the first-ever garment factory by a County government in Kenya in 2019 producing uniforms, mats and napkins.
In April 2020, a month after the first case of Coronavirus was announced in Kenya, Kicotec was quickly repurposed to enable it to manufacture 30,000 face masks a day, providing a lifeline amid a global shortage of face masks.