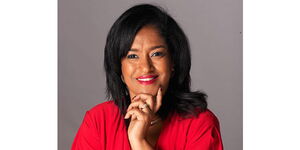 Esther Muthoni Passaris is the Nairobi County Woman Representative in the bicameral Kenyan parliament. She is also a member of the Orange Democratic Movement (ODM).
She is regarded as one of the most well-known female public figures in Kenyan business and politics. Passaris who was born in Mombasa.  In October 2017, Passaris graduated from the United States International University Africa, in Nairobi, with a BSc International Business Administration.
Esther Passaris is a known public figure in Kenya, who has sparked some controversy by her statements about other Kenyan politicians and businessmen. The former runner-up in Miss Kenya contest has been actively campaigning for the rights of women in Kenya.
Esther is also very vocal about the community and human rights. This makes her spend a significant amount of time with the community doing mentorship programs and speaking engagements in social forums. She was also CEO and the founder of "One in a Million" campaign which was operating under Driving Kenya Forward, a non-profit charitable organization, aimed at fighting development challenges in Kenya, such as poverty and unemployment, and promoting urban and rural development.
Esther has been at the forefront in her attempt to help residents of Nairobi ravaged by the vagaries of the Covid-19 pandemic.