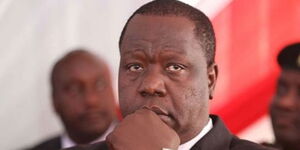 Dr. Fred Okengo Matiang'i is the Cabinet Secretary for the Ministry of Interior and Coordination of National Security. In 2019, President Uhuru Kenyatta, through an executive order, appointed Dr. Matiang'i as the chairperson of the National Development Implementation and Communication Cabinet Committee, earning him the nickname 'super minister'.
Dr. Matiangi was officially confirmed as the CS for Interior and Coordination of National Security in July 2017 following the death of Joseph Nkaissery.
Before taking over the crucial interior docket, Matiangi was the Cabinet Secretary for Education, Science and Technology from 2013 where he instituted radical reforms in the ministry that sealed exam cheating loopholes and injected transparency and credibility in national examinations.
He was also credited for ensuring national exams were marked and released within a month down from three months previously. Matiangi also enforced a rule that all school buses should be painted yellow for easier identification.
Prior to his role in the Ministry of Education, Matiangi – who holds a PhD in Communication and Comparative Literature from the University of Nairobi – was the Cabinet Secretary in the Ministry of Information, Communication and Technology.
He was lauded for transitioning Kenya from the analog broadcasting system to digital transmission despite resistance from a number of media companies, making Kenya one of the first countries in Africa to migrate to digital broadcasting.
In his earlier days, Matiangi worked for different academic institutions such as Egerton University and the University of Nairobi as a lecturer, the State University of New York as the East Africa Liaison and as Chief of Party for Kenya's Parliamentary Strengthening.
He has consulted for USAID, the World Bank, the Canadian Development Agency and Transparency International.
In 2020, Matiangi has been entrusted with more responsibilities by the president including as Kenya's representative to solve a row with Somalia, spearheading government projects, and has pushed for reforms in the security sector.