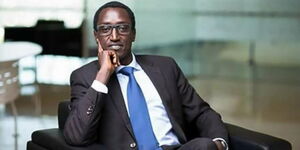 Bundotich Zedekiah Kiprop, popularly known as Buzeki, is a Kenyan politician and businessman. 
He made his way into politics when he competed with Jackson Mandago for the Uasin Gishu gubernatorial seat. 
He is the founder and Managing Director of multiple companies in Kenya which are tied to Buzeki Group of Companies. 
His decision to join the 2017 gubernatorial race got national attention over allegations that he was being fronted by Deputy President William Ruto to tame Mandago's political career. 
Buzeki ran as an independent candidate after losing the Jubilee party primaries. 
His campaign was made on the promise that he would use his influence to restructure the county government and attract investors. One of his main political manifestos was to increase employees pay in the county while ensuring that more youths had access to jobs.
He ranked second in the 2017 general election won by Mandago. 
Buzeki retreated to his private life before emerging in 2019 declaring his support for Isaack Ruto's party of Chama Cha Mashinani (CCM). 
He also started some grassroots projects that were aimed at uplifting farmers in Uasin Gishu.
One of the programs is called Mlo Mashinani, an all-inclusive program that targets to support farmers in Uasin Gishu and beyond.
Buzeki uses the program to ensure that the farmers get access to experts, they are provided with seedlings and get connected to local and national markets. Buzeki also recruits farmers under training which they then share the techniques with other farmers in a bid to ensure that locals are well equipped in their main source of income.
He has also indicated that he would give the Uasin Gishu gubernatorial another shot come 2022 as Mandago's term comes to an end.