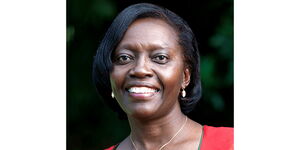 Martha Karua is former MP for Gichugu Constituency and is an Advocate of the High Court.
She attended  Kabare Girls Boarding School before proceeding to Kiburia Girls Secondary School.
She later enrolled to study Law at the University of Nairobi.
Karua was among leaders who formed the NARC Coalition whose ticket President Mwai Kibaki ascended to Presidency ending the reign of the Kenya African National Union.
Karua unsuccessfully attempted a shot at the Presidency twice in 2013 and 2017.
Karua has used her voice to keep Jubilee Party, headed by President Uhuru Kenyatta in check and has fought for human rights.
She is now part of Linda Katiba Movement alongside activists Boniface Mwangi, Jerotich Seii, economist David Ndii, and Community Advocacy and Awareness Trust Executive Director Daisy Amdany.
The group vows to oppose the Building Bridges Initiative for its attempt to overthrow the 2020 Constitution.