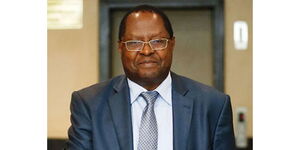 He is the governor of Embu County, a seat he won on a TNA (The National Alliance) ticket in 2013 and successfully defended via the Jubilee ticket in 2017. He has survived four impeachment attempts in his career. 
Wambora previously served as the Chairman of the board of Kenya Airports Authority (KPA) before venturing into politics in 2013. 
The Governor holds an MBA from the University of Hartford, a Postgraduate Diploma in Public Management and Rural Development from the University of Connecticut (US) and a B.Sc. in Political Science from the Makerere University. 
Martin Wambora was elected as the fifth Chairman of the Council of Governor's (COG) on  January 29, 2021. 
He is part of the current task force that advises President Uhuru Kenyatta on Covid-19 restrictions.