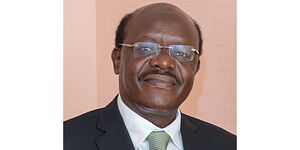 Mukhisa Kituyi, is the immediate former UNCTAD Secretary-General and a seasoned politician.
Kituyi served in the position for seven years having taken up the job in 2013 for a four-year term before he was reappointed in 2017 for an additional term.
In January 2021, he announced that he would be vying for president having stepped down from his post as UNCTAD Secretary General.
Dr. Kituyi has an extensive background as an elected official, an academic, and a holder of high government office. He also has wide-ranging experience in trade negotiations, and in African and broader international economics and diplomacy.
In politics, Kituyi has an extensive background as an elected official, an academic, and Minister of Trade and Industry from 2003 to 2007.
During this period, he chaired the Common Market for Eastern and Southern Africa (COMESA) Council of Ministers of the and the African Trade Ministers' Council for two years.
From 2008 to 2012, Kituyi was a member of a team of experts advising the presidents of the nations of the East African Community on how to establish more effective regional economic links.
From 2011 to 2012, he was a consultant for the African Union Commission, where he helped to develop the structure for a pan-African free trade area.
Immediately prior to becoming Secretary-General, Kituyi was Chief Executive of the Kenya Institute of Governance, based in Nairobi. 
He also served as chairman of the Council of Ministers of the African, Caribbean and Pacific (ACP) Group of States, and was lead negotiator for Eastern and Southern African ministers during the European Union-ACP Economic Partnership Agreement negotiations.