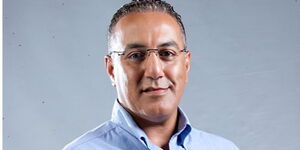 Hon Najib Balala is the current Cabinet Secretary, Ministry of Tourism and Wildlife. Balala studied Business Administration and International Urban Management and Leadership from the University of Toronto and the John F. Kennedy School of Government at Harvard.
Prior to his re-appointment as Cabinet Secretary for Tourism & Wildlife by H.E. Uhuru Muigai Kenyatta, CGH, President of the Republic of Kenya, Balala served at the Ministry of Mining, where he was Kenya's first Minister credited with delivering the Draft Mining Bill in 2014, the first policy and institutional framework review of Kenya's mining sector since 1940. 
He simultaneously served as Member of Parliament for Mvita Constituency, Mombasa, and as Kenya's Minister for Tourism from April 2008 to March 2012, where he delivered the Tourism Bill and gave the sector a policy and legal framework geared towards maintaining sustainability.
He was elected Chairman of the United Nations World Tourism Organization in 2011 and was voted Best Tourism Minister in Africa in 2009 by Africa Investor (AI). He is credited with steering Kenya's tourism sector to recovery following the post-election violence in 2008. He played a significant role in boosting growth and stability in the Kenyan and regional tourism sector. 
In 2020, Balala led from the front in efforts to revive the Kenyan tourism sector ravaged by the pandemic. Balala demanded the removal of a tourist camp built next to the Mara River, which was said to be blocking the famous wildebeest crossing. This in addition to many other efforts has seen tourism start to grow steadily despite the pandemic.