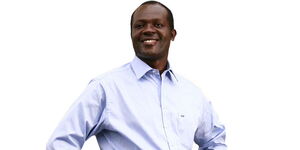 Raphael Tuju was first elected to parliament in 2002 representing Rarieda constituency until 2007. During this period, Tuju served as the Minister of Information and Communications and Minister for Tourism and Wildlife, and later became Foreign Affairs Minister in cabinet reshuffle in 2005.
After losing the 2007 parliamentary election, former President Kibaki appointed Tuju as an advisor and as a Special Envoy of the president on various missions.
Tuju became the Secretary-General of Jubilee Party in 2012, the vehicle that propelled Uhuru and Ruto to power in 2013. In 2018, Uhuru named Tuju as a Cabinet Secretary without a portfolio.
His proximity to President Uhuru and his position in Jubilee has seen Tuju's star over the last one year, especially with political realignments. For instance, he has spoken on behalf of Jubilee when the party decided not to contest in several by-elections in favour of the newfound partner in ODM.
In April 2021, Tuju responded on behalf of the government when the High Court declared the Cabinet Administrative Secretary positions that Uhuru had created in 2018, as unconstitutional.
The government's response in these matters is usually left to Head of Civil Service Joseph Kinyua, who also sits in cabinet meetings.
A few days earlier, Tuju had written to the registrar of political parties seeking to dissolve the partnership between Jubilee and UDA, a party linked to Deputy President Ruto.
Tuju's run-ins with Ruto and his lieutenants hit a crescendo in 2020 when Ruto's allies were kicked out of influential positions in parliament as some nominated MPs were summoned for disciplinary action.
Ruto later stormed the Jubilee headquarters accompanied by 38 MPs, making it the third time he had gone to the party's office in two weeks.
Tuju was involved in a near-death accident in March 2020. He was flown to the UK for treatment and took a few months to recover.