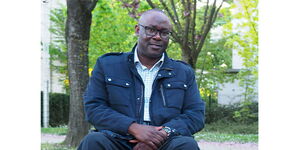 Timothy Wanyonyi is the Member of Parliament for Westlands Constituency. He was born in Mukwheya, Bungoma District. He is also the founder of Kenyan Paraplegic Organization.
Timothy Wanyonyi was elected as Member of Parliament in 2013 and later re-elected in 2017.
After completion of his 'A' Levels, he joined Punjabi University in India in 1988. He did a B.A in Public Administration, Political Science and Sociology. In 1991, he enrolled at the University of Delhi where he studied Law. In 1995, he joined the Kenya School of Law for his post graduate diploma in Law.
He co-founded the Kenyan Paraplegic Organization, which advocates for the rights of people with disabilities. 
He runs the Constituency Development Fund, whose aim is to enhance equitable sharing of resources in constituencies.