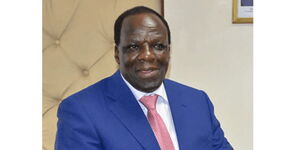 Oparanya is the current governor of Kakamega County serving his last term after being reelected in 2017. He is also the immediate former Chairman of the Council of Governor's (COG), a position he handed over to Embu Governor Martin Wambora on January 29, 2021. 
Oparanya is a certified public accountant and a member of the Institute of Certified Public Accountants of Kenya (ICPAK). 
He is a member of the Orange Democratic Movement (ODM) and is one of the party's Deputy Party Leaders. 
While serving as COG Chairman, Oparanya was part of the Covid-19 task force which advised President Uhuru Kenyatta on the pandemic. The COG recommended lockdowns, cessation of movements, strategies to revise the economy, tax reliefs and upgrade of county hospitals to curb the spread of Covid-19. 
In October 2020, the governor was named as the best performing governor in a study by Infotrak Research and Consulting for 2019-2020. Kakamega remained the best overall performing county even in terms of delivery of services.
Oparanya is seeking to run for Presidency in 2022 via the ODM ticket.