Flash floods continue to wreak havoc, in various parts across the country, with the most recent incident hitting Narok county.

At least 10 people are so far feared dead, following a heavy downpour witnessed Tuesday, in Narok town.

The flash floods originating from River Ngare- Narok which burst its banks, have swept away at least 10 vehicles.

As rescue operations continue to search for missing persons,  Narok county commissioner Arthur Osiya has asked residents to remain calm and report any missing persons to the police.

This comes barely a day after over 300 families were left homeless in Homabay and Kisumu counties following heavy downpour in the areas.

[video:
]
UPDATE: Atleast 15 people have so far died from the flash floods that rocked Narok town on Tuesday while scores remain admitted in hospitals according to Narok County Commissioner Arthur Osiya.
Rescue operations are still ongoing.
See also Over 300 Families Left Homeless
Nairobi's Drainage Systems Spell Trouble in the Coming Weeks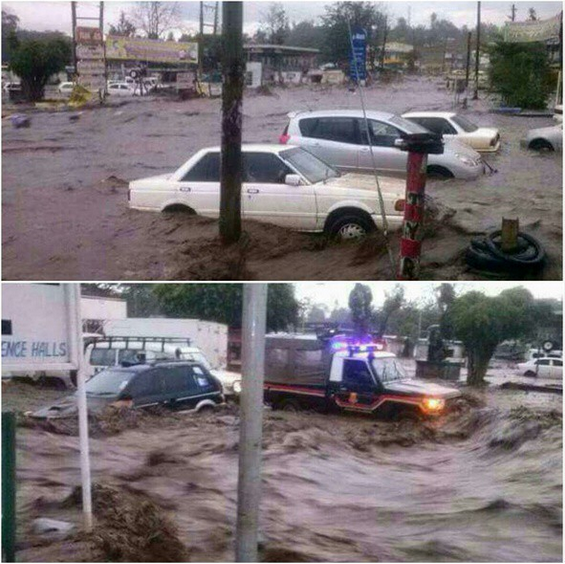 Fall Out

28 January 2022 - 8:04 pm

exposed

28 January 2022 - 8:10 pm

respect

28 January 2022 - 7:51 pm

Cancelled

28 January 2022 - 7:25 pm

tough call

28 January 2022 - 7:05 pm

Punitive

28 January 2022 - 6:19 pm

big moves

28 January 2022 - 7:03 pm

Security Matters

28 January 2022 - 5:47 pm

new twist

28 January 2022 - 5:20 pm

Ruto's Call

28 January 2022 - 4:45 pm

turned down

28 January 2022 - 4:26 pm

Debts

28 January 2022 - 3:49 pm