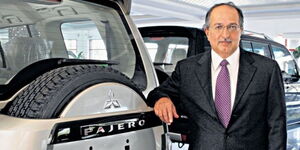 Adil Popat is a renowned business person who has had successes in the motor and hospitality industries. 
He is currently an executive chairman at Simba Corporation. The company is a diversified entity dealing with motor leasing, hospitality, and real estate among others. 
His vehicle distribution and lease business works with major motor vehicle companies such as BMW and Mitsubishi. 
Popat is the founder of Simba Corp Hospitality, which manages the Olare Mara Kempinski in the Maasai Mara reserve and Villa Rosa Kempinski in Nairobi. 
He is also involved in philanthropic works through the Simba Foundation, focusing on enhancing education, health care and Disaster Management for communities around Simba Corporation. 
Other organizations that he is a member include, Kenya Association of Manufacturers, Kenya Private Sector Alliance (KEPSA) and Kenya Motor Industry Association. 
He is the chief advisor of Wharton school board, advising them on African matters, and has been a member of the board for more than 9 years.