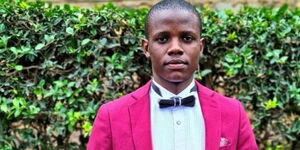 Crazy Kennar, real name Kennedy Odhiambo, is a content creator who doubles as an Actuarial Science student at the Jomo Kenyatta University of Agriculture and Technology.
He runs Tales of Crazy Kennar show.
While in University, he established The Crazy Kennar Company with him being the Chief Executive Officer.
Kennar's content focuses on real-life situations from politics to school life and even relationships. 
In addition, he uses his platform to educate and bring awareness to mental health issues such as depression, especially among the young generation.
In 2021, he launched a mobile app KAZI to help young people access job opportunities in a bid to fight depression among the youth.
He stated that every unemployed or self-employed individual will be able to generate income on the app using their various skills.
Further, this year, he launched his own restaurant, Instant Delicacies, located at Juja Square.