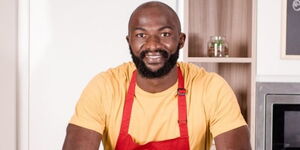 Dennis Ombachi is a former Kenya Sevens player popularly known for his explosive run to score a last-minute try to help Kenya 7s beat Zimbabwe 21-17 and qualify for the Olympics in Rio.
Ombachi suffered a blow to his career at the 2016 Olympics after breaking both his leg and uncle at a point where he was at his peak, putting him out of the pitch for about six months.
Currently, Ombachi has become an online sensation through his engaging cooking videos and his popular phrase, 'done',  is now part of his signature cooking style.
In an interview, Ombachi revealed that he struggled with his mental health from a young age and advocates for more people to speak up about such struggles.
Ombachi intends on starting his own masterclass on cooking that is inspired by his mentor, World renowned chef, Gordon Ramsey.
He also attributed social media as an avenue that helps him transition from being fully dependent on rugby to being able to earn his own income.