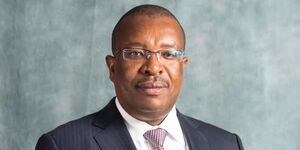 Dr. Gideon Maina Muriuki, MBS, is the Group Managing Director & CEO, Executive Director, Member of the Board of Management of The Co-operative Bank of Kenya Limited.
He was first appointed as the bank's manager in 2001 and has presided over the Bank's turnaround from a massive loss position of Ksh2.3 billion in the year 2000, to a profit before tax of Ksh 20.71 Billion in 2019. 
He has over 31 years experience in banking and finance and he was voted CEO of the year Africa 2014 by the International Banker. 
He is a Director of Kingdom Securities Limited, Vice-President Africa – International Co-operative Banking Alliance (ICBA), former Chairman, Governing Council of the Africa International University and former Chairman, African Rural and Agricultural Credit Association (AFRACA).
He was decorated in 2005 with the award of Order of the Grand Warrior (OGW), in 2011, award of the Moran of the Order of the Burning Spear (MBS), in 2017 with Chief of the Order of the Burning Spear first class (CBS) in recognition of his successful turnaround of the Bank and exemplary service to the nation. 
He is a recipient of a decoration of Chevalier de L'orde National du Burkina Faso by the President of Burkina Faso in recognition of his outstanding contribution to development of rural finance in Africa, 2016 Lion of Judah Award by Evangelical Alliance of Kenya and Mtumishi Bora Grand Award - 2016 by the Kenya Christian Professionals Forum for his great servant leadership as a committed Christian leader in the marketplace.
In 2018, he was awarded Best Banking CEO Kenya by International Finance.
In the face of the Covid-19 pandemic, Co-operative Bank offered a donation of Ksh 100 million to support efforts to combat Covid-19 in Kenya.
The contribution went to the Covid-19 Emergency Response Fund to purchase ventilators which are crucial in the treatment of Covid-19.
The Bank also restructured loans worth Ksh39.2 billion to support borrowers affected by adverse effects of coronavirus.
Speaking while releasing the lender's financial results for the second quarter ended June 30, Co-op Bank Group MD Gideon Muriuki stated that the pandemic had presented a tough operational environment hurting revenue streams for most clients.
''We are actively engaging our customers to support them through this period by re-aligning servicing of facilities, funding and transactional needs as the situation unfolds,'' Dr Muriuki explained.