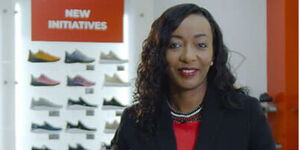 She is the head of Bata Shoe Kenya PLC — the country's largest footwear company.  Thotho's role is overseeing 3,000 employees and about 150 stores in the country. 
She is Bata Kenya's first female CEO since it began its operations in 1939.
Thotho was born and raised in Nairobi, where she attended a Catholic high school.
She later went to St Mary University in the US.
Soon after graduating, she was hired to sell long-term care insurance for the financial services company John Hancock. 
By 2003, she had moved to the Chicago area to analyze inventory for fashion clothing for thousands of stores across the U.S. Within a few years, she was promoted to a buyer in the fine jewelry department, specifically gemstones.
She returned to Kenya in 2010 after 11 years in the US.  First, she worked for Deacon, a fashion consolidator that franchised brands out of South Africa.
Bata Shoes poached her from that role in 2019 to start as their commercial director leading retail teams to sell shoes through different channels.
She has managed to keep the company afloat with her people friendly type of leadership.