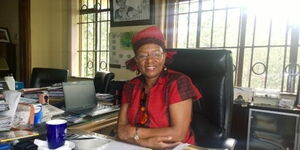 Jennifer Riria, is a Kenyan businesswoman, corporate executive, banker, and academic.
She serves as the Group Chief Executive Officer of Kenya Women Holding (KWH), a microfinance banking and insurance group serving nearly one million mostly rural Kenyan women.
Riria is the Group CEO for Echo Network Africa (ENA) and a founding member of the Kenya Women Finance Trust. She is the chairperson of Women's World Banking - a global network of over 53 microfinance institutions from 30 countries.
She has played a critical role in women empowerment in both Kenya and the African Continent. Further, she is a lady of many firsts, having effectively cleared the path for future women leaders.
These illustrious contributions to the entrepreneurship sector earned Riria a spot in Forbes Africa's 50 Most Powerful Women 2020.