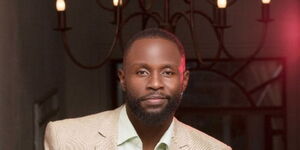 John Allan Namu is the CEO/Editorial Director of Africa Uncensored. He is a former features editor, reporter and crime investigator at KTN.
In 2015, he won journalist of the year at the 2015 annual journalism excellence awards held by the Media Council of Kenya.
He briefly worked at NTV as a Features Editor and Reporter.
Namu graduated with a Bachelor of Arts, Journalism and Integrated Studies at United States International University.
Allan Namu is famous for his investigative documentary dubbed Jicho Pevu/Inside Story, in which he partnered with Nyali MP Mohammed Ali.
On June 26, 2019, Namu alongside his Africa Uncensored crew of cameramen, Elijah Kanyi and Samuel Munia, video editor, Steve Biko and graphics artist, Clement Kumalija, won the 2019 Trace International Award in a gala held in Vancouver, Canada for their exposé, #TheProfiteers.
Namu's investigative report showed how suspected South Sudanese warlords and their kin were living large in Kenya, Uganda and Ethiopia undoubtedly blowing proceeds of plunder in the serene atmosphere of their host countries as South Sudan continued to crumble under interminable senseless war. 
In October 2019, Namu landed a deal with M-Net's Maisha Magic East Africa to produce a crime drama titled Kina starring celebrated singer-actor Sanaipei Tande.
During the 9th edition of the Kalasha Awards on November 30, 2019, Africa Uncensored's My Cancer Story – Uncensored Mtaani won in the Best Documentary category.
In 2021, As a member of the International Consortium of Investigative Journalists (ICIJ), he together with Purity Mukami of Finance Uncovered, were among the two Kenyan Journalists who contributed to the explosive Pandora papers expose.
The Pandora papers is a leak of almost 12 million documents and files exposing the secret wealth and dealings of world politicians and leaders.
John Allan Namu published a video expose titled Pandora Papers: Kenyatta's Secret Companies which covered details on the family's stashed wealth abroad.