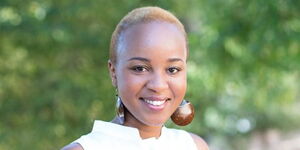 Wamunyu is the founder and CEO of Jumba Company. The firm simplifies the purchasing and financing of construction materials.
The Alliance Girls High School alumni has previously worked as the Head of Global Operations Kobo360, Senior Director of Strategy for Bridge International Academies in East Africa and the former Country Manager for Uber in kenya. 
Among her many works, she also developed a health impact assessment report for a slum in Nairobi (Mukuru) that highlighted how girls are affected by poor sanitation.
The above report was used to challenge the land tenure system in informal settlements in Nairobi. 
Some of her other accomplishments include, the creation of a BD Partnership with Sidian Bank to fund drivers so as to help them start small businesses. 
In 2018, Wamunyu was named among the top 40 under 40 women in Kenya.
In 2022, Jumba secured $1 million pre-seed funding to continue expanding its reach across major cities in the country.