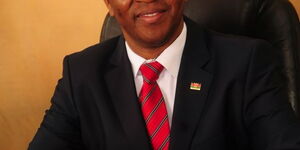 Karanja KIbicho is the Principal Secretary, State Department for Interior. He holds a Doctorate in Mechanical Engineering from the University of Cape Town, South Africa, a Masters of Science (MSc) degree in Mechanical Engineering and a Bachelor of Science (BSc) in Mechanical Engineering.
Prior to his appointment to the Ministry of Interior, he was the Principal Secretary in the Ministry of Foreign Affairs and International Trade and also Permanent Secretary in the Ministry of Industrialization.
Kibicho taught in various institutions of higher learning in Kenya and outside the country. They include Jomo Kenyatta University of Agriculture and Technology (JKUAT) where he served as the Chairman and Senior Lecturer in the Department of Mechanical Engineering. 
He has served as an external examiner at the University of Dar es Salaam, visiting lecturer at the Central University of Technology, Free State, South Africa and a part-time Lecturer at the University of Cape Town.
In 2020, Kibicho hastened service delivery by inspecting a number of projects across the country to hasten their completion.  He has specifically been at the forefront in ensuring Kenya rolls out Huduma Namba cards aimed at harmonizing approach to address duplication of efforts and to cut costs in government registration processes.