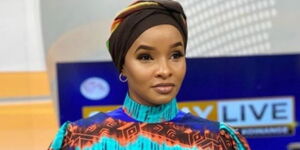 Lulu Khadija Hassan is a well-known Swahili news anchor and producer on Citizen Tv. She is a host on the Nipashe Wikendi news bulletin on Citizen TV together with her husband Rashid Abdalla. They have a segment called "Mawaidha ya Bi. Mswafari" where they discuss and give advice to married couples.
She owns a film company together with her husband called Philly films, which has produced films like Aziza which aired on Citizen, Huba which aired on Maisha Magic, and Maria which aired on Citizen.
Her show Maria allowed her to win the best producer in the TV Drama Award during the Women in Film Awards 2021 (WIFA) ceremony held on Wednesday, March 10.
Her Prison Diaries saw the High Court in Machakos allow for a retrial of a rape case in 2020, over a year after a her TV feature unearthed evidence that put the convict's conviction to to life sentence in question. 
Before pursuing journalism, she trained as a cabin crew hostess, human resource manager, and ticketing officer at Sairene Travel operations college.
Lulu first worked at Radio Salaam, before applying for the position as a KTN Swahili anchor. Later, she left to join Royal Media services on Citizen TV where she currently is.