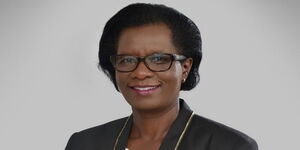 Lyn Mengich is the Chairperson Salaries and Remuneration Commission (SRC). She is also a member of the KCA University Governing council.
Mengich boasts of a 25-year career serving in different capacities as a board member, business leader and Human Resource management professional in both private and public sector.
She has previously held board positions at Jamii Bora Bank, Sovereign Group, National Social Security Fund (NSSF), Shell Oil products Africa, Barclays Bank (now ABSA), Kenya Commercial Bank, and SmithKline Beecham -East Africa.
As SRC Chair, Mengich has been instrumental in reducing the country's wage bill.
 In June 2021, she froze the reviewing of salaries of public servants for two years. She explained that the decision was in relation to the current wage bill ratio and the need to channel more funds for investment in the strategic priorities of the government to jumpstart the COVID-19 ravaged economy.
In October, she further announced changes to allowances for public servants. She stated that the non-taxable allowances would be capped at 40 percent of their gross monthly pay effective July 2023.